History
Kalamay (also spelled Calamay), which means "sugar", is a sticky sweet delicacy that is popular in many regions of the Philippines. It is made of coconut milk, brown sugar, and ground glutinous rice. It can also be flavored with margarine, peanut butter, or vanilla. Kalamay can be eaten alone but is usually used as a sweetener for a number of Filipino desserts and beverages.[1] It is similar to the Chinese Nian gao (also known as tikoy in the Philippines) but is sweeter and more viscous. A cousin of kalamay is dodol, found in Indonesia, Malaysia, Brunei, Singapore and in some parts of the Philippines.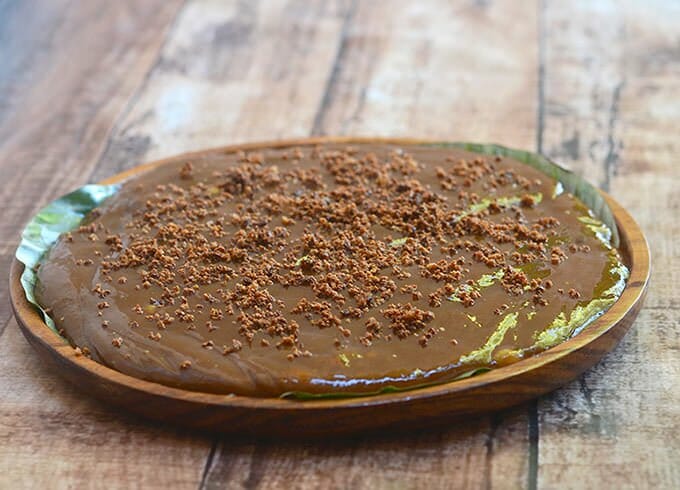 Ingredients
2 1/4

 

cups

 

glutinous rice flour

2 1/4

 

cups

 

muscovado or brown sugar

2

 

cups

 

coconut milk

2

 

cups

 

coconut cream

1/2

 

cup

 

water

1/2

 

cup

 latik
Instructions
Prepare a plate or round pan that you will use for the kalamay. Start by placing a clean banana leaf over a round pan. Brush some cooking oil or coconut oil on the banana leaf. Set aside.

Combine coconut milk, coconut cream, water, and glutinous rice flour in a deep cooking pot. Mix well until then texture of the mixture becomes soft. Use wire whisk if necessary.

Turn the heat on to medium. Gradually stir until the mixture starts to get hot. You will notice that lumps will form, continue to stir until bubbles appear.

Set the heat to low-medium. Continue to stir for 15 minutes.

Add the sugar. Mix well to incorporate. Continue to mix for the next 30 to 40 minutes or until the mixture becomes really thick and the color turns dark brown.

Transfer the thick mixture on the prepared plate or pan. Spread and top with latik.

Let it cool for a few minutes. Serve.